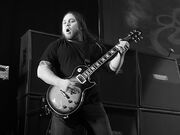 Travis Stever
(born 25 Nov 1978) is the lead/rhythm guitarist for progressive-rock phenom
Coheed and Cambria
. He was initially in a band formed by
Claudio Sanchez
called "Toxic Parents", until they split and reformed alongside Nate Kelley as "Beautiful Loser" in 1995. Beautiful Loser then became Shabütie after Stever left. In 1999, he rejoined Shabütie and is since the only continuous member of Coheed besides Claudio.
Side Projects
Edit
In 2005, Stever, alongside Joey Eppard, Billy Riker, Chris Gartmann, and Joe Stote from 3, formed Fire Deuce, an 80s-style metal group. Fellow artists like Claudio (harmonica, guitar, vocals) and Josh Eppard (drums) have made appearances. In 2006, Stever created a solo project known as The English Panther, which was then renamed Davenport Cabinet in 2008 after the Davenport Brothers, who were magicians. Over the years, he picked up extra members, such as Tyler Klose, Tom Farkas, Michael Robert Hickey, and Rory Hohenberger. Davenport Cabinet disbanded in 2016.
Ad blocker interference detected!
Wikia is a free-to-use site that makes money from advertising. We have a modified experience for viewers using ad blockers

Wikia is not accessible if you've made further modifications. Remove the custom ad blocker rule(s) and the page will load as expected.