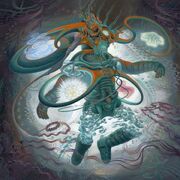 The Afterman: Ascension is the first volume of the first chapter of The Amory Wars series by Coheed and Cambria. It is followed by The Afterman: Descension. The story was released as a coffee table book along with an album of the same name. It follows the adventures of Sirius Amory in his journey into the keywork. During his time in the keywork, he is inhabited by several entities ("Key Entities") who take control of his consciousness.
Each song corresponds directly to one chapter in The Afterman storyline.
Ad blocker interference detected!
Wikia is a free-to-use site that makes money from advertising. We have a modified experience for viewers using ad blockers

Wikia is not accessible if you've made further modifications. Remove the custom ad blocker rule(s) and the page will load as expected.